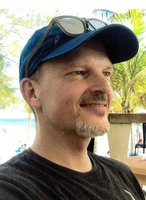 Walter Reynolds
Walter Reynolds of Red Deer, Alberta, passed away on August 10, 2020 at the age of 45 years. Walter was born in Pretoria, South Africa to Eric and Muriel Reynolds in 1975. He graduated from the University of Pretoria in South Africa and earned his degree in medicine. Walter practiced as a physician for 20 years, of which the last 14 years was in the community of Red Deer. Walter was a devoted husband and an amazing dad to his two beautiful young daughters, and he was deeply involved in their lives. He was passionate in life; he enjoyed to run, loved taking his family camping and exploring, going on adventures. For Walter, his family was his everything. Walter was full of life, a positive person who touched the lives of everyone wherever he went. Working as a family physician at the Village Walk-In Clinic, Walter Reynolds always stepped up to the plate and walked the extra mile for his patients. Without hesitation he signed on to volunteer at the Red Deer Regional Hospital during the Covid-19 pandemic. Walter is survived by his wife Anelia and their two daughters Juliet and Claire as well as an extended family in South Africa. He was predeceased in death by his father and brother. Walter Reynolds was an exceptional human being.
"Wallie, we miss you, we love you"
Due to the Covid-19 social gathering restrictions, a private memorial service will be held.
In lieu of flowers, memorial donations in Walter's memory may be directed to Ronald McDonald House (Central Alberta), 5002 - 39 St., Red Deer AB T4N 2P2 or to the Red Deer Hospice Society, 99 - Arnot Ave., Red Deer AB T4R 3S6. Condolences to Walter's family may be emailed to meaningful@telus.net. Arrangements in care of Meaningful Memorials Funeral Service, Red Deer AB. A locally owned funeral and cremation provider serving Red Deer and all of Central Alberta. 587-876-4944