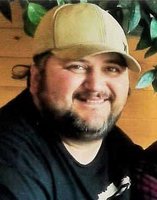 Gregory Christos Stavropoulos
Gregory Christos Stavropoulos of Lacombe County, Alberta passed away suddenly on April 9, 2021 at the age of 43 years.
Greg was born in Edmonton in August 1977. He later moved to Calgary and then on to his father's homeland of Greece. After some six years overseas, Greg returned to Canada to live with his grandparents in the Minburn-Innisfree area of Alberta. He attended high school in Mannville.
While in high school, Greg attended a party and met a girl named Darla Hakes. The two shared a "doobie," but Darla could not handle the smoke and became violently ill for hours. After going home, Darla was in no mood to light up again, but she was eager to see more of Greg. The two began dating and married in 2003. Their union would produce three sons and one daughter.
After high school, Greg studied mechanics at Lakeland College. He found work in directional drilling and later opened his own company in the burgeoning industry. The career was a perfect fit for Greg, who loved working with his hands (and was not afraid to get them dirty).
Greg always put his family first. He was an exceptional father who loved taking his four children fishing or joining him in his lifelong passion of hunting. If it had to do with the outdoors, Greg was there. He was with each of his children when they caught – and then kissed – their first fish. He was an equally loving husband who was always affectionate toward Darla, making her feel beautiful each and every day.
Greg was kind and generous, the sort of soul who would give you the shirt off his back. He loved people and never hesitated to help them out, even if they were strangers.
Greg is survived by his wife Darla; sons William, Winston, and Walker; daughter Emma Mae; brothers Nick (Lisa) and their son Silas, and Loukas (Latisha) and their children Ellee and Christos; and sister Angela Ford and her children Cassandra, Chase, and Chale. Also left to cherish Greg's memory are his parents Donna and Chris as well as numerous other family members and many friends.
A private graveside service will be held. A memorial service will follow, by invitation, at a later date.
In lieu of flowers, memorial donations may be forwarded to the Innisfree Fish and Game Association.
Condolences for Greg's family may be emailed to meaningful@telus.net.
Arrangements in care of
Meaningful Memorials Funeral Service
A locally owned cremation and funeral provider
serving Red Deer and all of Central Alberta
587-876-4944