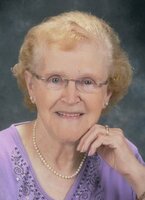 Violet Esther Christina Honert
Violet Esther Christina Honert of Red Deer, Alberta passed away at the Red Deer Regional Hospital on September 14, 2021 at the age of 88 years, due to complications from a stroke.
Violet was born in 1932 in Medicine Hat, Alberta to Lilly and Knut (Ivar) Sandberg. She grew up in small town Alberta, including Winifred, Pakowki, Orion, Purple Springs and Taber.
Violet was married to Bruce Honert on August 22, 1959 in Lethbridge, Alberta. She went into secretarial work and then teaching, taking her degree at the University of Alberta. She taught secretarial sciences at Red Deer College for more than a decade. She was a respected and well-loved teacher, and was also active in the Anglican Church.
Violet was the beloved mother to three children: Lorraine (Edward), Mark, and Marla. She loved singing and could play music by ear. She sang in her church choir, Red Deer College Choir, Hearts of Harmony, and with the Sweet Adelines. Her many hobbies included knitting, needlepoint, gardening, photography, Scrabble and bridge.
Violet is lovingly remembered by son Mark Carlton Honert and daughters Marla Honert and Lorraine Suder. She was predeceased by her husband, Bruce Carlton Honert.
A funeral service will be held at St. Leonard's on the Hill Anglican Church in Red Deer on Tuesday, September 21 at 1:00 pm. The service will be viewable on Zoom. If you would like the link, phone or text Mark at 403-877-6317.
In lieu of flowers, memorial donations may be directed to the Alzheimer Society of Alberta and Northwest Territories, #306, 10430 - 61 Avenue NW, Edmonton AB, T6H 2J3; or the Alberta Diabetes Foundation, 1-020 Li Ka Shing Centre, 8602 - 112 Street, University of Alberta, Edmonton AB, T6G 2E1.
Condolences for Violet's family may be emailed to meaningful@telus.net.
Arrangements in care of
Meaningful Memorials Funeral Service
A locally owned cremation and funeral provider
serving Red Deer and all of Central Alberta
587-876-4944