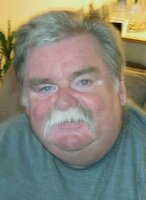 Brian Wayne Jones
Brian Wayne Jones, a long-haul truck driver and resident of Red Deer, Alberta, passed away peacefully with family by his side on August 24, 2021 at the age of 67 years at the Red Deer Regional Hospital Centre.
Brian was born in Vulcan, Alberta in 1954. He was one of six children in the family.
If it were to be said that Brian had a hobby, it would be his enjoyment and involvement in drag racing. When he wasn't on the road trucking, he had his head under the hood of his Nova, always working to tweak that extra engine horsepower. Brian loved the track and the enjoyment of being around his racing friends and their cars. He also dispatched and was office manager for Eagle Transport out of Red Deer.
Brian is survived by two older brothers, David Barry Jones and Elgin Keith Jones; one sister, Evelyn May Jones; a daughter, Billie Jo Kramer-Nielsen (nee Jones); a son, Jody Free Fisher; and many grandchildren. He was predeceased by his father, Robert Lloyd Jones, and mother, Doris May Jones (nee Stevens); two sisters, Lynda Diane Smith (nee Jones) and Pamela Yvonne Jones; and his son, Tyson Wayne Lloyd Jones.
Brian was cremated by Meaningful Memorials Funeral Service in Red Deer. Brian's lifelong friends will gather at one of their favourite fishing holes to celebrate and reminisce about the good times and the journeys along the way.
Brian's laughter and smile will be missed by many.
Condolences for Brian's family may be emailed to meaningful@telus.net.
Arrangements in care of
Meaningful Memorials Funeral Service
A locally owned cremation and funeral provider
serving Red Deer and all of Central Alberta
587-876-4944