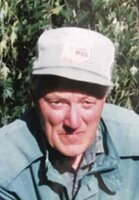 Andrew Gilbert Nielsen
Andrew Gilbert Nielsen of the Diamond Valley District passed away peacefully at home on September 19, 2021 at the age of 101 years.
Andrew was born November 6, 1919 to Orla and Margaret Nielsen in a one room house in the Evarts district in the middle of a snow storm, which was so bad, the doctor got stuck in a snow bank on the way out.
Andrew had a love for animals and especially loved to sit by the window watching the kittens play in the yard and the birds by the bird feeder, he would often tell the story about the time a doe had her fawns in the yard and had to bring them to the winder to show them off.
Andrew was proud of his farm and all the hard work he put into it, he remembered when everything was built and had many stories about helping his parents make the farm successful. When he wasn't farming, he also worked at sawmills in BC and Alberta. Andrew loved to work with his hands and was an accomplished carpenter and often worked building homes in the area. When he wasn't working, he loved to go to dances, curl and attend stampedes.
Andrew married Shirley Nielsen in November of 1975 and they had many happy years together.
Andrew is survived by his nephew Erwin Shippelt; great niece Kira Shippelt; great nephew Curtis Shippelt; all his wonderful caregivers as well as many extended family and friends. He was predeceased by his father Orla; mom Margaret; sister Darlene; brother-in-law Bruce and niece Nola.
At Andrew's request there will be no service. Memorial donations may be made to a charity of the donor's choice.
Condolences to Andrew's family may be emailed to meaningful@telus.net.
Arrangements in care of
Meaningful Memorials Funeral Service
A locally owned cremation and funeral provider
serving Red Deer and all of Central Alberta
587-876-4944