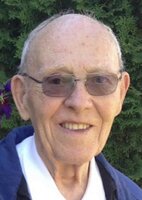 Raymond "Ray" Wilford Lund
Raymond "Ray" Wilford Lund of Red Deer AB, beloved husband of Gladys, passed away on October 18, 2021 at the age of 94.
Ray was born on June 7, 1927 in Donalda AB and grew up in the Mirror area. One of his fondest memories of this time was being able to stop for a dip in the local slough on his way home from school. He was also grateful for the opportunity he had to spend his teenage summers in the mountains, working at the Chateau Lake Louise, and he never lost his fascination with the mountains. Ray was honoured to serve the majority of his working career as a member of the Canadian Postal Service, until his retirement in 1980. His free time was spent in his garden, volunteering with the Red Deer Regional Hospital, the Royal Canadian Legion, and many other service organizations, and performing with "The Happy Gang" singers.
Raymond took great pride in his roles as a husband, father, grandfather and uncle and cherished these relationships. Raymond was an extremely kind-hearted, gentle soul who took delight in brightening the day of those around him with his sense of humour and practical jokes.
Raymond is survived by his wife of 69 years Gladys, his two children D'Arcy and Gary (Janet); four grandchildren Eric, Caitlin (Matthew Jordan), Ashley and Samantha; and numerous nieces and nephews and their families. He was predeceased by parents Roy and Violet, and his six siblings Cecil, Lucille, Olive, George, Leonard, and Melvin. All those who knew Ray are deeply saddened by his passing but thankful for the time spent with him. A family memorial service for Ray will be held in the near future.
Memorial donations may be directed to the Red Deer Regional Health Foundation, 3942 – 50A Ave, Red Deer AB T4N 4E7 or to the Royal Canadian Legion Poppy Fund, 2810 – Bremner Ave, Red Deer AB T4R 1M0.
Condolences to Ray's family may be emailed to meaningful@telus.net.
Arrangements in care of
Meaningful Memorials Funeral Service
A locally owned cremation and funeral provider
serving Red Deer and all of Central Alberta
587-876-4944