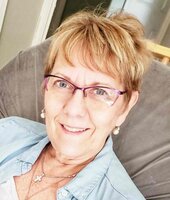 Karen Janet Trevors
It is with a mix of profound sadness yet great peace that we announce the passing of Karen Janet Trevors on November 12, 2021, at the age of 66, at the Red Deer Hospice. She was deeply loved in life and will be greatly missed in death. Her legacy of faith lives on in her children and grandchildren.
Born on December 1, 1954 to Rowland and Collene Woolsey in Qu'appelle, Sask, Karen spent many of her childhood years in Morrin, AB. She worked as a court reporter for many years. She will be lovingly remembered by her husband Colin of 38 years, her daughter Chelsea (Jamie) Flaman and their children Isaac, Jenaya, Elliot, Luke, Micah & Makenna; her son, Evan Trevors; her daughter Vanessa (Adam) Green and their children William & Holland, her daughter by choice Janice (Keith) Richardson and their children Ashley & Brandon; her siblings Rod (Char) Woolsey & Allan (Irina) Woolsey; sisters-in-law Gloria Gourlay, Iva Trevors, Edna (Doug) Moorhouse, Phyllis (Dean) Stutheit, Jennifer (Corey) Dodge and brother-in-law Frankie (Ellen) Trevors and numerous nieces and nephews. She was predeceased by her mother Collene (Comba) Woolsey ; her father Rowland Woolsey; and her mother-in-law Evelyn (Trevors) Hebert.
Karen was a beloved nana to her grandchildren, a faithful wife, loving mother, sister and friend to so many. With a heart for loving and ministering to people, she was an active member of her church prayer team and many other serving ministries. She loved people and was deeply passionate about her faith at the time of her stroke in 2019.
A private funeral service will be held at 1PM on Thursday November 18, 2021 at St. Leonard's on the Hill Anglican Church in Red Deer, by invitation only, due to current restrictions. Internment at Alto Reste Cemetery will follow. For all those who are unable to attend in person, the service will be also livestreamed on Facebook at St. Leonard's on the Hill Anglican Church page at 1pm MST with a replay available to view afterwards. Alternatively, you can join via ZOOM (meeting ID: 889 0921 3569, password: 12345).
The family would like to extend their thanks to the incredible staff at the Red Deer Hospice Society, Dr. Donovan Stearn and Reverend Chris Roth for their comfort and guidance in the final days. In lieu of flowers, donations may be made to the Red Deer Hospice Society (www.reddeerhospice.com) in gratitude of their incredible kindness and support.
Condolences to Karen's family may be emailed to meaningful@telus.net.
Arrangements in care of
Meaningful Memorials Funeral Service
A locally owned cremation and funeral provider
serving Red Deer and all of Central Alberta
587-876-4944