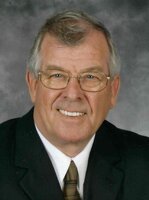 Franciscus "Frank" Groenen
Franciscus "Frank" J. L. M. Groenen lost his courageous fight with lung cancer on December 6, 2021 surrounded by his beloved family. Frank is survived by his loving wife of 57 years, Petronella "Nelly" who cared for him at home throughout his illness. Frank and Nelly had four children who gave them a combined total of seven grandchildren and even more extended family members as a result of marriage who will carry forward Frank's memory and are grateful for their time with him. He is also survived by three siblings and their respective families.
The family would like to thank Drs. Philpott, Braganza and Tarukandirwa and their respective staff, as well as the nurses and staff of the Red Deer Regional Hospital Centre, particularly the Emergency department. The family are also very grateful to the Red Deer Homecare personnel, in particular Naomi, Susanna and Keesha as well as Jaymi with Palliative Care Services who allowed Frank to spend his illness at home which was a great source of comfort as he fought his condition amid as much laughter as a variety of visitors could bring to him.
A Funeral Mass will be held on Wednesday, December 15, 2021 at 11:00 am. Due to the current Covid social gathering restrictions, the service will be available virtually.
Virtual Service Instructions:
The link is on Facebook.com
https://www.facebook.com/St-Marys-Catholic -Church-161395447237858
Click on "Videos"
At approx.. 10:55 am there will be a new link to watch the virtual service live.
If you are not able to watch the service as it is happening, you can watch it later as it will be left on this Facebook page.
If you do not have a Facebook account……
Go to https://stmarysparish.jimdo.com/
Scroll down to St. Mary's Parish Facebook Page "Click Here" or to watch later, stay on this website and scroll down to "Recorded Masses at St. Mary's.
The Funeral Mass will be attached within a few days following the service.
Should you require assistance, please contact St. Mary's Church at 403-347-3114.
In lieu of flowers, memorial donations may be made directly to the Friends of the Red Deer Regional Hospital. Condolences to Frank's family may be emailed to meaningful@telus.net.
Arrangements in care of
Meaningful Memorials Funeral Service
A locally owned cremation and funeral provider
serving Red Deer and all of Central Alberta
587-876-4944