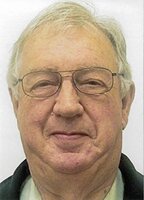 David Lewis Brew
David Lewis Brew was born on May 19, 1937 in Sunnygate, Isle of Man to Henry and Elsie Brew, the eldest of eight children. In 1957 at the age of 19, he immigrated to Canada as a farm worker and settled in Alberta. In 1960 he became employed with the Red Deer Fire Department and remained a member until 1967. David then went on to pursue many business endeavors in the oil and gas industry, eventually going back to his love of farming when he settled on Larkin X Road in Armstrong BC.
David was a huge supporter of community sports, donating his time and knowledge extensively. He loved watching his children and later grandchildren in their various sporting activities. He also found time to be active in politics serving as a Spallymcheen Counselor for nine years and was involved with the BC Chicken Board. David was an ambitious, genuine and caring man who will be greatly missed by those who knew and loved him. He passed peacefully on January 27, 2022 in the Vernon Jubilee Hospital, Vernon BC at the age of 84 years.
Davdi will be lovingly remembered by his wife Elaine, to whom he was married for 61 years; three sons, Terry (Janet), Don (Kristina) and Jamey; his siblings who all reside in Isle of Man, Donald (Wendy); Arthur (Pauline), Irene, Averil (Ken), and Brian (Linda); cherished grandchildren, Tiffany (Scott), Nichole (Dylan) and Bryan; three great-grandchildren, Madalyn, Lydia and Harrison; two step great grandchildren, Westley and Anders; numerous nieces, nephews and friends. He was predeceased in death by his infant daughter, Tracy May in 1964; his parents Henry and Elsie; beloved grandmother, "Ma"; and two sisters, Kathleen and Sandra.
A private family graveside service will take place in Red Deer AB. A celebration of David's life will be held at a later date and details will be announced at that time. Condolences to David's family may be emailed to meaningful@telus.net.
Forwarding arrangements in care of
BETHEL FUNERAL CHAPEL LTD, VERNON BC
with interment services in care of
MEANINGFUL MEMORIALS FUNERAL SERVICE
A locally owned cremation and funeral provider
serving Red Deer and all of Central Alberta
587-876-4944