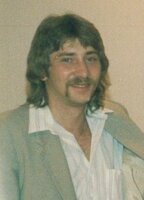 Niels Erik Larsen
On March 3, 2022, Niels Erik Larsen of Blackfalds, Alberta, a buddy to many and a proud born-and-raised Albertan, went to be reunited with his dad Peter, mom Ida, and brother Tom.
Niels is survived by his sisters Hanne-Jorn Skousbol, Lena (Herb) Schendzielorz, Ulla (Jens) Hansen, sister-in-law Trudy as well as Glen (Wendy) Larsen, 19 nieces and nephews.
Niels came to be in our lives from a Centennial Project by his mom and dad in 1967. Despite being relatively young, Niels held on to many old-school ways and values. He operated his own company, Larsen Industries, for the better part of two decades, welding with his rig in the Alberta oilpatch.
Niels was renowned for his witty, smartass sense of humour as well as being very thoughtful and kind. He had a streak of stubbornness that he used, unfortunately in vain, against the awful disease of cancer.
Trying to sum up a man's life in a few paragraphs is impossible. If you've known Niels, you'll have many great memories to draw from. What matters is that you have these memories of Niels; laugh a little or maybe shed a tear or two, that's alright.
A come-and-go memorial gathering for Niels will be held beginning at 2:00 pm on Saturday, March 19, 2022 at the BMI in Blackfalds, Alberta.
Many thanks to the Red Deer Regional Hospital Centre nurses and doctors for the care and respect they gave to Niels.
Arrangements in care of
Meaningful Memorials Funeral Service
A locally owned cremation and funeral provider
serving Red Deer and all of Central Alberta
587-876-4944