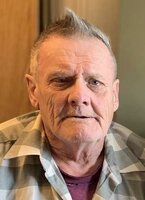 Larry Torpe
With profound sadness, we announce the passing of Larry Torpe, our loving and devoted father, grandfather, and friend to all whose lives he's touched, on April 7, 2022. He was in his 74th year of life when he passed away peacefully and gained his angel wings.
Born in Camrose, Alberta, Larry started his career as a chef, then proceeding to his career as a dairy truck driver for years. His love for trucking grew and he began working on the rigs driving water trucks for many years after.
Larry was the beloved father of Connie, Corrinnie, and Jeff, and proud grandfather of Jerret, Kelsey, Dakota, Damion, Destiney, Brooklyn, and Brody. He was also a proud great-grandfather to Jayden, Ashlyn, Aj, and Declan.
Larry lived a full life as a wonderful father, mentor, and dedicated worker. He loved to fish, go camping, and spend his time around family. He was highly skilled in anything to do with the outdoors as well as his favourite game of cards, 31. A farm man at heart, he adored all wildlife as well as nature; he loved to be outside enjoying the beauty of nature.
Most of all, Larry loved his family and friends and instilled good values in his children and grandchildren that have served them well. He will be dearly missed and forever in our hearts.
A celebration of Larry's life will be held at Old McDonald Campground, Buffalo Lake, Alberta, 21246 Township Road 40-2, on May long weekend, May 21, 2022, beginning at noon. This will be a weekend event; if you choose to stay, feel free to bring some camping gear.
Condolences for Larry's family may be emailed to meaningful@telus.net.
Arrangements in care of
Meaningful Memorials Funeral Service
A locally owned cremation and funeral provider
serving Red Deer and all of Central Alberta
587-876-4944