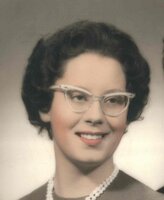 Sharon Kay Gibbs
Sharon Kay Gibbs (nee Hartman) entered into the presence of her Lord Jesus with a thankful heart on July 1, 2022, at the Red Deer Regional Hospital Centre, Red Deer AB at the age of 80 years.
Sharon was born in DesMoines, Iowa in the spring of 1942, the youngest child to her parents Elmer and Anna Hartman. Sharon committed her life to Jesus Christ at the age of 8. She grew up in Spokane Washington where she attended First Church of the Open Bible and finished high school at Northwest Christian School.
Sharon faced eternity as she engaged life, in prayer and practicality, thinking of the welfare of those around her, telling people they "need to look after their souls" and holding strongly to the fact that Jesus loved her - the truth that made all the difference for her. She would have a song, a quip, a scripture, or a spontaneous prayer on her lips on virtually every occasion. She earnestly kept a reverent heart, she was trustworthy, and effectively interceded in prayer for others. Her hospitality, sense of humour, and welcoming heart brought warmth to her family home over many lit lanterns, scrabble games, bowls of popcorn, and she always created great fun for others around her.
As a child and teen, she loved summer camp, and was often involved in administering kid's activities throughout her life, opening her home to anyone in crisis and meeting them at the point of their need. She demonstrated a heroic sense of justice, and acted in kindness, and with creativity, putting herself in other people's shoes, and having their back.
Sharon is survived by her husband of almost 60 years, Raymond Gibbs – a Canadian Serviceman - with whom she shared many travels, and years of ministry. Sharon will also be fondly remembered by their three children, her firstborn daughter Shelly McKlusky (Kevin Dushanek); son David Gibbs, and youngest daughter Keri-Lynn Gibbs; as well as her dearly loved Grandson Jakob McKlusky, all of Red Deer.
She is also remembered by her loving sister Pauline Matsumoto; sisters-in-law Alice Chambers, and Eileen Cruikshank and brother-in-law Reginald Gibbs. She is dearly missed by numerous nieces and nephews, and her many friends on both sides of the border. She was joyfully welcomed by all those in the Lord who predeceased her.
A Celebration of Life Service will be held on Tuesday July 26, 2022 at the Lacombe Pentecostal Church, 40331, Range Road 27-1, Lacombe AB at 1:30 p.m.
In lieu of flowers, memorial donations may be made directly to the Central Alberta Pregnancy Care Centre, 5116 – 47 St, Red Deer AB T4N 1R9.
Condolences to Sharon's family may be emailed to meaningful@telus.net. Please put "Gibbs" in the subject line.
Arrangements in care of
Meaningful Memorials Funeral Service
A locally owned cremation and funeral provider
serving Red Deer and all of Central Alberta
587-876-4944