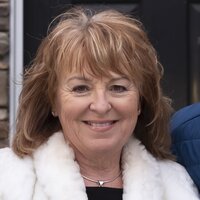 Susan Alice Neufeld
It is with heavy hearts that we announce the loss of Susan Alice Neufeld. After a hard-fought battle with brain cancer, Sue passed peacefully on July 20, 2022 with friends and family by her side.
Sue was born in Red Deer on September 14, 1955 to Dorothy May Card (nee Costello) and Jervald (Joe) Arthur Card. She was the 4th of 6 siblings (Randy, Bing, Linda, Gail, and Donna), with whom she remained close with her whole life. Sue and her siblings would spend time together often, whether it was going to see a movie or going on an adventurous trip.
Sue became a devoted mother upon the birth of her daughter, Tina. She would later go on to have her sons, Trevor and Tyler. She loved her children with all her heart and was so happy to have her boys, as well as their partners Sara and Jodi, as her neighbours for the last three years. Sue has 5 grandchildren (Jayden, Mitchell, Reid, Romy, and Juniper) whom she doted on and adored, and who had brought her immense joy, especially over the past couple of years.
An active member of the Red Deer business community, she and Phil Neufeld co-founded and grew True-Line Homes for over 30 years. Sue worked hard and was a great mentor to the next generation of women in business. Her efforts didn't go unnoticed, she was the recipient of a Women of Excellence award in 2019.
Sue had an adventurous spirit and loved to travel. She made wonderful memories from walking the Camino in Spain, to studying Spanish in Panama, cooking in Italy, and riding her motorcycle to Mexico. Sue's most recent international adventure was a 2019 family trip to Portugal with her sons, daughters-in-law, and grandson Reid.
Philanthropy was a big part of Sue's later life. She was a big supporter of the annual Revving up for Kids motorcycle ride in support of kid's cancer, she volunteered at and also financially supported the Red Deer Hospice Society, and she sponsored several families in Africa. For many years, Sue headed a team that built houses in El Salvador, building over 100 homes for people in need. Sue was an incredibly generous person who would never hesitate to help a friend or stranger.
Sue will be sorely missed by all who knew her. Her strength, kindness, humour, and compassion are just a few things she will be remembered for.
A funeral service will be held at CrossRoads Church, 38105 Range Rd 275, Red Deer County, Alberta, on Friday, July 29, 2022 at 1:00 p.m. All who knew Sue are welcome to attend.
In lieu of flowers, memorial donations can be made to support brain cancer research at the Clark H Smith Brain Tumour Centre at the University of Calgary. Online contributions can be made here: https://engage.ucalgary.ca/Sue_Neufeld_Memorial
Condolences to Susan's family may be emailed to meaningful@telus.net. Please put "Neufeld" in the subject line.
Arrangements in care of
Meaningful Memorials Funeral Service
A locally owned cremation and funeral provider
serving Red Deer and all of Central Alberta
587-876-4944