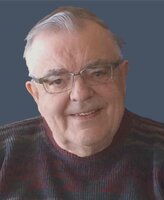 Donald Albert "Don" Woitte
Donald (Don) Albert Woitte passed away on August 9, 2022 at the age of 89 years.
Don was born in Haynes, Alberta to Orvin and Elsie Woitte. He lived on the family farm until he was 10 years old, when the family moved to Red Deer.
Don was an active young man and athlete who played hockey, baseball, and golf. He was also musically inclined and played cornet with the high school band. His love of sports and music remained for the rest of his life.
He had a long career at Chrysler Canada and retired in 1989.
Don met Irene (Kaziuk) in 1957 and they married in 1958. They welcomed their daughter, Sherry, in 1959 and their son, Dean, in 1961. The family moved to the Clearview district in the Fall of 1959, and they resided there until 1980, when they relocated to the Haynes area.
Don loved living in the country and raising Quarter Horses. He was recognized by the American Quarter Horse Association (AQHA) for 50 years of continuous service.
Don is survived by his loving wife, Irene; daughter, Sherry (Roger); grandsons, Kris (Veronica) Joel (Maria), and Dustin; sisters-in-law, Barbara, Dorothy, Margaret (Jack), and Marie and brother-in-law Ron (Ruth); and many special nieces and nephews. He is also survived by many friends.
The family would like to thank the doctors, nurses, and staff in the Cardiac Unit at the Red Deer Regional Hospital for their care and compassion.
Don was predeceased by his son, Dean; sister Doreen; and brothers-in-law Elmer, Sid, Jim, and Dennis.
A private memorial is being held. In lieu of flowers, donations can be made to the charity of your choice. Expressions of sympathy may be emailed to Don's family to meaningful@telus.net. Please indicate "Woitte" in the subject line.
Arrangements in care of
Meaningful Memorials Funeral Service
A locally owned cremation and funeral provider
serving Red Deer and all of Central Alberta
587-876-4944