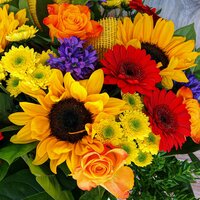 Susan Alice "SusieQ" Weldon
Susan Alice Weldon, 64 years, of Red Deer, Alberta, passed away on July 20, 2022, in Red Deer, Alberta.
Susan, also known by her nickname, SusieQ, was born in Camrose, Alberta, to Dennis and Jean Weldon on December 6, 1957. Living with or near family, Susan spent the majority of her life in Whitecourt, where she went to high school, and in Red Deer, where her parents retired. She loved animals, particularly kittens and cats, and enjoyed flowers and collecting and wearing jewelry.
Susan is survived by her father, Dennis Weldon; sister Judith (Maurice Rostaing) Weldon, sister Sandra (Brian) Lowes; brother, Neil Weldon, and nieces: Dana Myckan and Jodi Myckan and nephews: Marshall (Samantha) Lowes and Matthew Lowes; and grandnieces: Chloe McKort, Zevan Whitbeck and Keira Whitbeck. She is preceded in death by her mother, Jean Weldon, in 2013, and her niece, Kari Myckan, in 2022.
Memorial donations may be made to Whisker Rescue,Box 27138, Red Deer AB. T4N 6X8, whiskerrescue@live.com. There is no service planned at this time. Condolences to Susan's family may be emailed to meaningful@telus.net. Please indicate "Weldon" in the subject line.
Arrangements in care of
Meaningful Memorials Funeral Service
A locally owned cremation and funeral provider
serving Red Deer and all of Central Alberta
587-876-4944