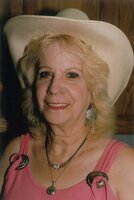 Elsie Bernice Bara
Elsie Bernice Bara passed away peacefully on August 25, 2022 with her family at her side.
She is predeceased by her parents, Axel and Marie Lindholm; daughter Gail Sanders; and sisters Louise Palechuk and Beverly Alm. She will be lovingly remembered by her children, Brenda Rivers Bara (spouse Steve Plews) and children Harmony and Cody; Carolyn Cassady and children Adam and Paige; Miles Bara and daughter Averley; and Warren Bara (spouse Lorri). She also has one great-granddaughter, Ella. She leaves behind numerous nieces, nephews, cousins and many, many dear friends.
Elsie loved her church, friends and family and was always concerned about everyone's lives, wishing well for all. She grew up on a farm in New Norway with her parents, Axel and Marie Lindholm, and she loved horses. She attended a rural school in New Norway. Her love of the country remained dear to her for her whole life, and she loved to dress like a country gal, with her "cowgirl clothing" and jewelry.
Elsie's other love was music. At an early age, she taught herself to play piano and guitar, all by ear. She didn't need music lessons to be able to master these instruments, even the accordion. She would sing to anyone, including audiences. She even learned how to yodel, again with no lessons. She was naturally gifted with the love of music and continued playing her precious guitar until arthritis in her fingers sadly caused her to not be able to pluck the strings, so she gave the guitar to her son, Miles, who received her natural gift of music.
A Celebration of Life for Elsie will be held at St. Leonard's On The Hill Anglican Church (4241 – 44 Street, Red Deer, Alberta) on Friday, September 2, 2022 at 11:00 am. Luncheon will be served after the service.
Condolences for Elsie's family may be emailed to meaningful@telus.net. Include "Elsie Bara" in the subject line.
Arrangements in care of
Meaningful Memorials Funeral Service
A locally owned cremation and funeral provider
serving Red Deer and all of Central Alberta
587-876-4944