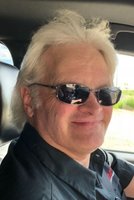 Kevin Peter Swanson
In loving memory of Kevin Peter Swanson, who passed away suddenly on March 18, 2020 at the age of 57.
Kevin taught weekly bible studies to the inmates at Bowden Institute. He could be often heard saying, "If it doesn't fit, force it, if it breaks it needed replacing anyway!" He had a love for cars and his Treager grill. A heavy-duty mechanic for over 30 years, he will be missed by colleagues and customers alike.
Kevin is survived by his wife Cheryl, daughter Rebecca (Tanner) Thompson, son K. Gabriel Swanson, father Peter Swanson, sister Tina (Dave) Cripps, brothers Trevor (Grace) Swanson and Tim (Lilly) Moore, five grandchildren, and several aunts, uncles and cousins. Kevin was predeceased by his mother Karen, uncle Tom, and grandparents.
A memorial service will be held at a later date.
In lieu of flowers, donations can be made to the Heart and Stroke Foundation, 5241 Calgary Trail NW, Suite 144, Centre 104, Edmonton AB, T6H 5G8.
Condolences for the family may be emailed to meaningful@telus.net.
Arrangements in care of Meaningful Memorials Funeral Service, serving Red Deer and all of Central Alberta, 587-876-4944.