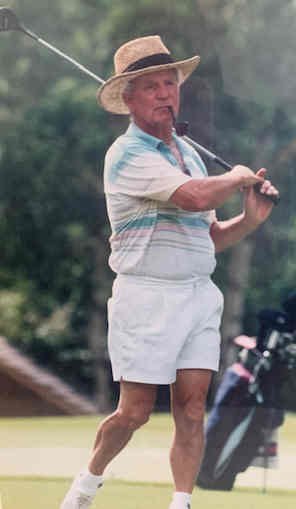 In Memory of
Robert Eugene Thompson
Friday, August 21, 2020
Obituary of Robert Eugene Thompson
Robert Eugene "Barber Bob" Thompson was born in Red Deer in 1934 to Ralph and Augusta Thompson. Bob was Big Brother to his sister Donna and had seven older siblings: Elsie, Joyce, Dorothy, Stanley, Manley, Jack and Dell.
Ralph "Pop" worked for the city of Red Deer and "Gusty" was the anchor at home. Bob recalled that there wasn't much money to go around in those days but that didn't stop him and his siblings from amusing themselves. Cards were played to see who did dishes, take out garbage, shovel the walks, weed the garden etc. Everything was a competition within the family and out of necessity Bob turned into a pretty fair card player. At family reunions nobody was unhappy to draw Bob as a bridge partner. That competitive spirit stayed within him through his life to the very end.
Bob was a hard worker who had a hard time sitting still. At eleven years old he was lucky enough to get a paper route delivering the Calgary Herald. He would walk or ride his bike to the CP train station early every morning and collect his papers to deliver to homes in the downtown area prior to going to school. He also helped the Blades' family with their garbage pickup for a few extra dimes. He boasted that as a young boy he drove the garbage truck to the dump while barely able to see over the steering wheel and couldn't quite get the clutch all the way down. Bob didn't brag about his schooling. When asked he would always jokingly say "I got half of twelve, six".
Bobby's big joy as a child and throughout his life was sports. He was a good athlete as a boy and was active in track and field, boxing, baseball and hockey. He won many awards as a young athlete and was especially proud of his golden glove boxing medals. He once told his son Robbie that the first round of his first competitive fight was the longest three minutes of his life. He became a more proficient boxer after that.
In May of 1951 Bob enlisted in the Canadian Armed Forces. His journeys in the Force took him to eastern Canada, France, Germany and England. He was Honorably discharged in May of 1954. Bob was quietly proud of his service to his country and a proud member of the Canadian Legion.
After he returned from Europe Bob went to Barber School (much to the chagrin of his future customers) and moved to Hanna, where he met his first wife Muriel Reiman while cutting hair and playing hockey for the Hornets. Bob and "Murt" were married in Cereal, Alberta and they moved from Hanna to Red Deer in 1956. Robbie was always amazed at his mother and father's dancing abilities. However, when he was complimented about his dancing, Bob would say that his brother Dell was a much better dancer than he was.
Bobby was a pretty fair hockey player. He was a rugged defenceman (who wasn't afraid to drop his gloves) for the Red Deer Rustlers in 1961 and 1962. Bobs nephew Lawrence Miller still talks about how Bob took him to a game in the Old Edmonton Gardens against the Oil Kings and got him a seat right behind the players bench to watch his uncle Bob playing for the Rustlers. Prior to that Bobby played senior hockey in Hanna and was a player coach for the Fort St. John Flyers in 1959 where Muriel and Bob welcomed their son Robbie. Apparently Muriel welcomed Robbie alone while Bobby was at a golf tournament out of town. That was never confirmed nor denied by Bob.
After returning from Fort St. John in 1960, Bobby took up shop cutting hair in the basement of the Valley Hotel where he worked his brush cut, pixie cut, crew cut and duck tail magic on friends, family, MP's MLA's, city workers, lawyers, doctors, Mayors, NHL hockey players and all. Bobby was a good listener and a pretty good storyteller himself back in the day while the hair was dropping on the floor. When someone needed a haircut that couldn't pay right then, he would give the same cut as he did when he cut Bobby Hull's hair which was a proud moment for him as he was a Blackhawks fan at the time. He ended up being a tried and true Oilers fan after they joined the NHL.
Bobby continued on with hockey after his playing days and became a referee where he worked up to the AJHL level as well as working many Central Alberta Hockey League games. Bob very much enjoyed the camaraderie of his refereeing partners and spent many hours on the road traveling to games out of town. Robbie remembers getting booed out of town on more than one occasion after it didn't go well for the home team.
In 1971(72), Bob was asked by Alf Cadman to coach the Red Deer Rustlers. Bob accepted and the team had a successful season only to lose in the final of the Centennial Cup in Guelph. That year Bobby made many friends while coaching and remained friends with some of his players till the end.
Years went by and Bob decided a new career was in order. He bought a gravel truck and was happy with his choice. Bob and Muriel decided to part ways in 1980 after 24 years.
In the eighties Bob met Shirley Mottus and after a brief courtship they formed a nice unit and married in the back yard of their home. Shirley was a retired nurse and a wonderful partner to Bob. All of Bob's family adored her. In addition to the winters in Parker, Arizona in their motorhome, Shirley talked Bob into traveling to many exotic locations that he would not have experienced if not for her.
It was at this time that Barber Bob went back to his first career, cutting hair. He took up shop this time at the Arlington hotel where he remained until shortly prior to the hotels demolition. Bob enjoyed the comings and goings on the street and many of his old customers returned for their "trims". After the Arlington the barber shop then moved to his garage where the bovine scatology would continue.
Bob was an avid and pretty fair golfer. He loved the game and many of his friends were members of the RDG&CC which he belonged to for decades. He was always up for a little money game and maintained a very respectable handicap. He could take his game anywhere as he was a very straight hitter. He would often say after hitting a drive right up the middle, "where did that go?" Robbie was fortunate enough to play many rounds of golf with his father and was lucky enough to witness Bob make his first hole in one on number 17 at Red Deer Country Club in 2003. Bob also had a hole in one at River Bend, the same day his electric push cart got away on him and ended up in a pond. Many years Bob would venture to Jasper for the annual Men's Mountain Golf Classic where he won his flight more than once. On Father's day weekend 1994, Bob shot a career round of two under 69 at Jasper Park Lodge Golf Course with Robbie and two of his best friends. A proud moment for both father and son.
After Shirley passed away Bob became a partner with Leslie Waldbauer. They continued traveling to Parker for the winters which Bob loved to do. Hiking, golfing, fishing and winter relaxing on the Colorado River with family and friends was a great joy for him. He especially appreciated being on the river with his two nieces and their husbands, Debbie and Gerry Eskow and Dawn and Irvin Bowles. Both couples meant the world to him.
When he returned from Arizona Bob's summers were spent cutting hair in the morning, golfing as well as helping his good friend Butch Thomson on his farm. Bob loved being a part of Butch and Heather's farm and was so for many years.
In 2010 Bob became a grandfather for the first time at the age of 76. Ella was a great joy for him and even when he became forgetful, he always remembered her name.
In the last few years of Bob's life, even after having a stroke that left him without the use of his left arm and limited use of his left leg, he never lost his work ethic or competitive spirit. With some help, he looked after his yard, shoveled his sidewalks, mowed his lawn, and helped with those chores and others at Rob and LaDonna's. With a modified golf glove he was also able to play a little golf. He did not want to sit still. "LETS GO" was a phrase that was heard more often than some wanted to hear.
Bobby will be fondly remembered and especially missed by his two sisters, Joyce Miller and Donna Bradshaw (who both live in Edmonton), Robbie's family, LaDonna, Jaeger, Taze, Zane, and Ella as well as the entire Pasutto family along with many nieces and nephews.
Rob and LaDonna would especially like to thank Bob's nieces Marie Thompson and Muriel Manser for their support and caring which went above and beyond while helping Bob in his last years.
Thank you also to Dr. Joe Hopfner who was chosen by Bob to be the Rustlers team physician in 1971 and was Bob's doctor prior to that until his passing.
All in all, a life well lived Robert. Rest in peace.
Due to the current pandemic there are no plans for a service of any kind. However Bob indicated that after his passing he would (at last) buy his friends and family a drink or two. Stay tuned.
A donation in Robert's name can be made to the Royal Canadian Legion (Branch 35), 2810 – Bremner Ave. Red Deer AB T4R 1M9 for those who wish to do so.
Condolences to Robert's family may be emailed to meaningful@telus.net. Arrangements in care of Meaningful Memorials Funeral Service, a locally owned funeral and cremation provider serving Red Deer and Central Alberta 587-876-4944.
Share Your Memory of
Robert Eugene
Service Area
Red Deer and all of Central Alberta including, but not limited to:
Blackfalds, Bentley, Bowden, Delburne, Eckville, Elnora, Innisfail, Lacombe, Olds, Penhold, Ponoka, Rimbey, Spruceview, Sylvan Lake, Sundre.
Contact
#1 4625 - 63 Street
Red Deer, AB T4N 7A6
Office hours by appointment only
24 Hours
(587) 876-4944
Fax: (403) 290-8243

Have A Question?
We understand that there are many questions that arise when a death occurs. We are available 24 hours a day, seven days a week to answer questions you may have and provide direction. Please call us if you require immediate assistance.