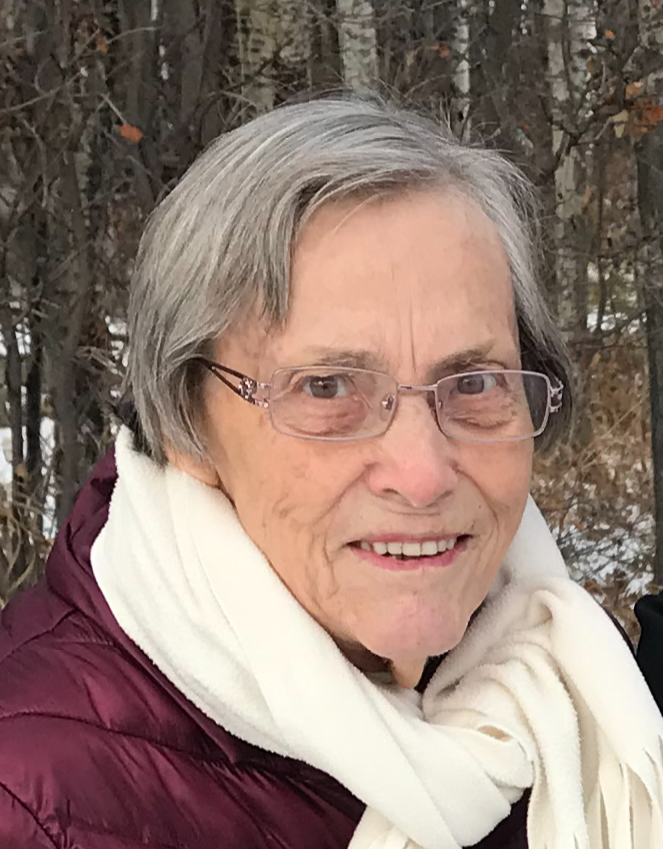 Obituary of Emily Marie Abraham
Emily Marie Abraham of Red Deer AB, passed away at Points West Living in Red Deer AB, February 9, 2022 at the age of 86 years.
Emily was born Emily Marie Eldred in Innisfail in 1935 to parents Emma (nee Rossiter) and George Eldred. Even though she was the only child of their union, she had nine half-siblings – three brothers and two sisters from her father's first marriage (Charles, George, Evelyn, Huberta and Jack Eldred)) and two brothers and two sisters from her mother's first marriage (George, Troy, Leila, and Marjorie Dulaney).
Emily was raised on a farm two miles east of Innisfail. She attended Grade 1 at the Aberdeen School (five miles east of Innisfail), went to Innisfail School for Grades 2 through 11, and took Grade 12 at the Canadian Nazarene College in Red Deer.
She worked for a short while as a telephone operator for AGT (Alberta Government Telephones) in Innisfail and she & Perry ran an Amway business for several years but her main occupation was being a wife and mother.
Emily & Perry, along with Ray & Florence Quesseth, founded the Innisfail Camera Club. Emily won several awards for her photographs, including one for western Canada.
Music was always very important to Emily. She had a beautiful voice and sang at the Aberdeen Church and Innisfail Church of the Nazarene for many years, both in the choir and as a soloist. Her family remembers singing along to the congregational songs as Emily tracked the words in the hymnbook for them with her finger (some didn't even sing so they could just listen to her voice). She was also an accomplished pianist.
Emily was a great cook and baker. Some of her family's favorites are her whipped shortbread cookies, corn fritters, potato soup, turkey/chicken pot pie, potato salad (with her homemade mayonnaise), lemon cake custard, Frozen Delight, boiled raisin cookies, muffins, Half Hour Pudding, Pink Lady Salad, Nanking cherry jelly, apple butter, homemade French fries, Finnan Haddie, and on, and on, and on!
Emily loved desserts – angel food cake with ice cream and berries, Skor bar trifle, date squares, lemon pie, shortbread, to name but a few. Emily loved camping. She loved driving the Terra-Jet and had "a need for speed" – the faster the Terra-Jet would go, the better! She loved the family campouts out west in the summer and at Camp Kuriakos for Christmas. She loved gardening and always had a huge vegetable garden. She enjoyed sewing clothes for the kids and crocheting. Emily loved going to the Nazarene Church Camp at Camp Harmatten and especially loved taking the kids and grandkids to Family Camp. She loved travelling. Their trip down east with the Adairs was very special to all of them. As was the cruise to Alaska that their family sent them on for the 60th anniversary, made even more special when some of the family was able to go with them.
And Emily loved Jesus! He was her Lord & Savior.... her life song. Emily's heart's desire was to live her life as Jesus did. It was from the overflow of that divine relationship that Emily was able to freely give the extraordinary love, gentleness, and kindness of her Lord to everyone she encountered. She had a very special place in her heart for children! She tucked those precious little ones under her wing and treated them as her own.
Emily was love. She had a very tender heart. She was patient, wise, kind, and had a gentle strength about her. She was known for her loving spirit, which was often expressed through a smile and hello, a note/card/letter, a touch on the hand/shoulder/back, a little conversation, a lengthy visit, a hug (she loved hugging), and her unfailing wave at the window of their home to say goodbye to family or friends! Emily always cared for others and genuinely wanted each one to know they were noticed and cared about. She was the disciplinarian of the family, and it only took a snapping of her fingers for the kids to know they were being chastised.
Perry, her beloved husband, was the love of her life. Perry was totally smitten when Emily winked at him at the age of 12 and the beginning of their life story was kicked off. That connection eventually turned into the blessed marriage covenant & treasured relationship of almost 67 years. Emily was a devoted wife and totally cherished Perry.
There are 71 natural and blended family members down line from Emily & Perry, each of whom was welcomed into the family and loved equally. When God said "Go forth and multiply", they listened! Emily & Perry's six children and their spouses, 19 grandchildren and their spouses, 25 great-grandchildren and one great-great-grandchild were the sheer delight of Emily's heart! Emily deeply loved her family. She was so very proud of each and every one of them. Emily was loved greatly and will be forever in the hearts of her family and friends. She leaves behind a true legacy of love.
On February 9, 2022, at 5:10 in the afternoon, the angels that the Lord had sent took Emily home.
Emily will be lovingly remembered by her husband Perry; sons Richard (Soma) Abraham of Calgary, Allen (Sherri) Abraham of Red Deer; daughters Brenda (Jack) Steenson of Red Deer, Bonnie (Bob) Marks of Innisfail, Lorna (Dave) Fulton of Lumby BC and Susan (Darcy) Carruthers of Sylvan Lake; 19 grandchildren; 25 great grandchildren and one great great grandchild. Also to cherish her memory is her sister Marjorie Campbell of Barrie ON; numerous nieces; nephews; cousins and a multitude of friends.
She was predeceased by her parents; five brothers; three sisters and great grandson Kane.
A private family gathering will be held at a later date. Memorial donations may be directed to the Alzheimer Society of Alberta, 1, 5550-45 St, Red Deer AB T4N 1L1. Condolences to Emily's family may be emailed to meaningful@telus.net.
Arrangements in care of
Meaningful Memorials Funeral Service
A locally owned cremation and funeral provider
serving Red Deer and all of Central Alberta
587-876-4944
Share Your Memory of
Emily
Service Area
Red Deer and all of Central Alberta including, but not limited to:
Blackfalds, Bentley, Bowden, Delburne, Eckville, Elnora, Innisfail, Lacombe, Olds, Penhold, Ponoka, Rimbey, Spruceview, Sylvan Lake, Sundre.
Contact
Bay 12, 4621 - 63 Street
Red Deer, AB T4N 7A6
Office hours by appointment only
24 Hours
(587) 876-4944
Fax: (403) 290-8243
Have A Question?
We understand that there are many questions that arise when a death occurs. We are available 24 hours a day, seven days a week to answer questions you may have and provide direction. Please call us if you require immediate assistance.