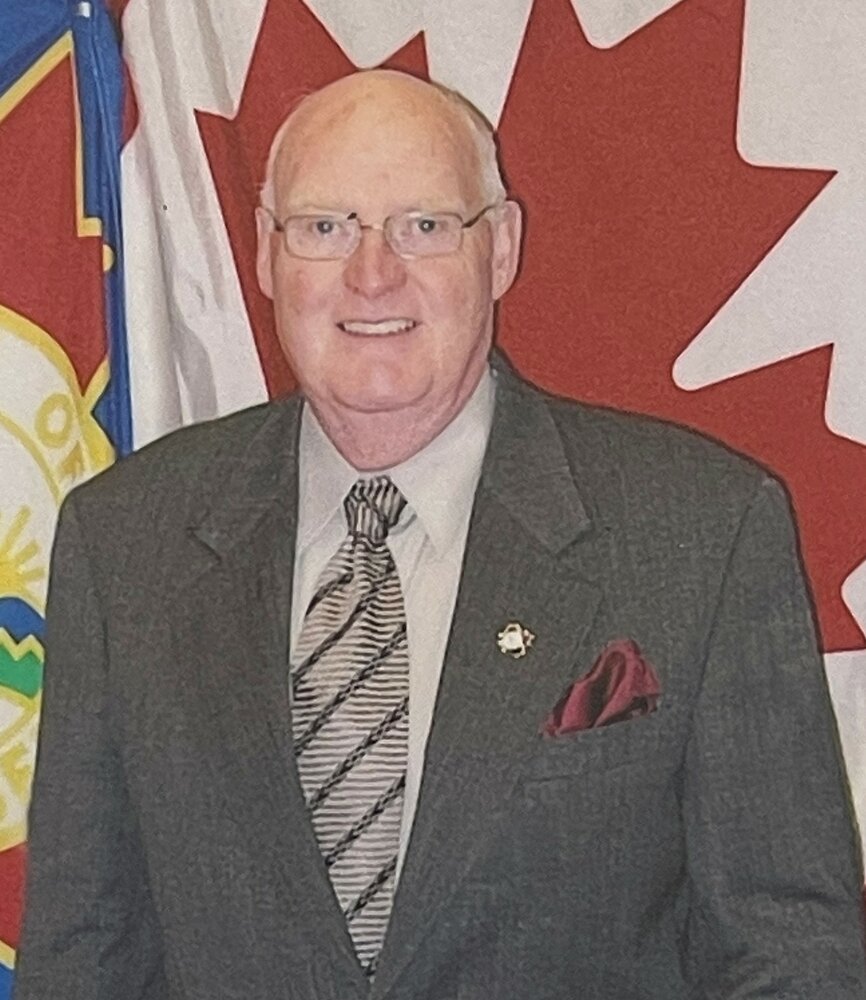 Obituary of Douglas Kennedy Graham
February 8, 1947 – Benito, Manitoba
December 15, 2022 – Innisfail, Alberta

It is with many cherished memories, we say goodbye to our beloved husband, father, brother, grandfather, and friend, Ken Graham of Innisfail, Alberta, who passed away peacefully, surrounded by family and lots of love, on December 15, 2022, at the age of 75 years.
Ken was born in the rural community of Benito, Manitoba on February 8, 1947. His parents, Douglas and Margaret Graham, had six children – Shirley, Bob, Marilyn, Ken, Derwin, and Janice. Ken had fiery red hair and twinkling blue eyes. When their house in town burned down, the family moved to a beautiful country acreage. Ken grew up helping around the farm, waking early to feed the cattle and chickens before school. When he was in high school, he would miss weeks of school to help with the fall harvesting. He learned early in life the meaning of hard work and the value of helping others.
In between work and school, Ken always found time for his passion – sports! He was the Sports Convenor for Student Council of his school, responsible for tracking the school's sports teams and reporting on their season in the school yearbook. Ken also played hockey, football, and curled throughout high school and was very competitive, athletic, and strong. You didn't mess with Ken! Ken continued to watch and play sports throughout his life. Most notably, he went on to play in four Manitoba Curling Provincial tournaments.
Ken excelled in school, despite rarely studying and sometimes skipping class to play cards in the school's janitor's room. After graduating from grade 12, Ken was accepted by the University of Manitoba and planned on studying engineering. He put his dreams on hold to support his family while his father recovered from a heart attack. His Dad found an ad in the paper for the position of an assessor, and Ken successfully applied and began what would become a successful 35-year career. Through hard work and a willingness to relocate, Ken worked his way up to become the Manitoba Director of Municipal Development, moving from Benito to Minnedosa, Thompson, Swan River, Morden and Winnipeg. When he retired, Ken and Devira moved to Innisfail, situated between their two daughters in Calgary and Edmonton and near a fantastic golf course.
Devira caught Ken's eye in high school. He was already good friends with her twin brother, Dale, and well-liked by her parents. He decided he was going to ask Devira out on a date after picking her and her friend up from their work shift at the theatre. However, Devira's friend had other plans and asked Ken out instead! Despite this minor setback, Ken and Devira eventually went on a first date to see a show. Devira recalls that Ken showed up with his clothes pressed and that he was a true gentleman. According to Ken, it was the goodnight kiss that set up the next date! They dated only on Saturdays, often attending dances together, going to the show, or cruising up and down a bustling Main Street as farmers came in town to do their shopping and visit. At their 50th wedding anniversary, when asked about their first impressions of each other, Ken responded "I thought she was cute, smart, and I liked her". Devira responded "He was a nice guy – athletic, popular, and shy. My parents loved him. I later learned he was also very romantic".
Ken and Devira dated throughout high school and while Devira attended university to become a teacher. They were married on August 2, 1969, at the Benito United Church at 3:30pm with a reception that followed at the Benito Community Hall. According to Ken and Devira, their best wedding gift was each other. They were so excited to begin their lives together! Ken's father lent them his 1967 Impala for their honeymoon. They drove across Western Canada, stopping in Banff to see the mountains for the first time, took a ferry to Victoria, and visited and stayed with family along the way. Following their honeymoon, they moved to Minnedosa into a top story suite. They later bought their first house for $20,000. They enjoyed hosting and had company over every weekend. They shared a deep connection to the outdoors, and golfed, fished, and camped together. They were very compatible and happy together. In his retirement speech, Ken stated "I was recently sitting in my car, probably waiting on a train, when I heard a line from a song that struck me. I didn't catch the artist or the song title, but the line went like this: 'I wouldn't want to be me if I couldn't have you'. Devira, thank you for spending your life with me. I love you with all my heart."
Ken was very excited about becoming a father. Ken and Devira welcomed their first child, Patricia (Patti) on January 20, 1970. Laurie came a year later on March 4, 1971. Ken dedicated his life to his family and cherished taking care of them. He was a giant teddy bear and loved to cuddle. He was very protective. After seeing Stars on Ice at the Winnipeg arena, he stumbled and fell down a flight of concrete steps while carrying Patti, who had a broken leg in a cast. He took the brunt of the fall while Patti survived without a scratch.
He taught his daughters how to golf, play baseball, ride a bike, fish, and drive. The first driving lesson didn't go so well. With the entire family in the truck, Ken taught Patti how to drive a standard but forgot to explain the brakes. Everyone survived except the passenger side rear view mirror and a couple of rungs on his parent's deck. His grandson Emmett recalls a similar experience where Grandpa let him drive the golf cart with zero instruction. Emmett sped down a steep hill at full speed, losing control and swerving off the path on two wheels. When the cart stopped, Grandpa said "Ok, you're done".
Ken loved being a grandpa. He spent time playing chess with Jack, reading with Danielle (Dani), looking at pictures and homemade movies with Isla, and eating Doritos with Ellarie (Ellie). He played poker with Emmett and would always let him win all his money. He was a loyal fan of the Winnipeg Jets and Bombers, and Emmett could always expect a phone call from Grandpa after Winnipeg beat one of his Calgary teams. He loved to listen to Dani play her Cello and Jack play his violin. He was so proud of his grandchildren!
Ken enjoyed travelling with his family. When his girls were young, the family drove in a Volkswagen Rabbit to Ottawa, Yellowstone National Park, and Mount Rushmore, camping along the way. For Christmas one year, he and Devira surprised their girls with a trip to Disneyland. They took a side trip to Mexico and were concerned when their bus arrived full of bullet holes! Ken later bought a motorhome which he equipped with a musical horn and took his family and his parents across Canada from coast to coast. He fulfilled a lifelong dream of visiting his ancestral homeland, Scotland and Ireland, with Devira, Patti and his son-in-law Randy. Highlights of the trip included visiting the distillery of his favorite Scotch, Lagavulin, located on the Isle of Islay and visiting St. Andrews golf course. He also took golfing holidays with Devira, travelled on a family vacation to Hawaii, and celebrated his 50th wedding anniversary in Banff.
Ken was very involved in serving the communities he lived in. While in Minnedosa, he helped to physically tear down the old curling rink and raised funds to build a new one. He also coached a rag tag team of young hockey players. Even though he could barely afford his own groceries, he would reward them with hamburgers after games and would drive the entire team in his van to tournaments. He was the President of the Thompson Curling Club, raising funds to build a new curling rink and paying it off within two years. He was an active member of the Swan River Elks Club and later joined the Lions Club of Innisfail. He was the President of the Innisfail Historical Village. He campaigned to become the mayor of Innisfail and spent weeks going door to door meeting people and listening to their concerns. He was elected mayor in 2004 and re-elected in 2007. He loved Innisfail and was so proud to serve the town.
Ken loved life and lived it to the fullest. To celebrate their 25th anniversary, Devira wanted to sky dive as a family. While Ken thought this was a terrible idea, he went along with it. On his landing, he broke his ankle and had to stay in the hospital for a week to get surgery to get a steel pin put in. He would later brag when he set off airport metal detectors that it was from an old skydiving accident. He loved snowmobiling, ice fishing at Paint Lake, woodworking, driving his caddy, and dressing to impress in his Italian suits. When he was diagnosed with a brain tumor, he refused to slow down, completing radiation treatments while he continued to work. He beat pancreatic and liver cancer. He lost his hearing and was determined to get a cochlear implant so he could hear again. He had back-to-back bouts of Covid. Even his doctors couldn't believe how he would always bounce back. He spent his last days playing Crib with Devira, usually beating her and proclaiming, "I won"! Whenever family and friends came to visit, his blue eyes would light up and he would always have a smile and a big hug. He lived for his family.
Ken is survived by his wife, Devira Graham; his two daughters and their partners, Patricia (Patti) Graham and Randy Boomhour and Laurie Graham and Randy Kondor; his five grandchildren, Danielle and Jack De Meulles (Laurie) and Emmett, Isla, and Ellarie Boomhour (Patti); his brother, Robert Graham; his sisters, Marilyn Strukoff and Janice Metcalfe; his sister-in-law, Patricia Graham; nieces and nephews; and grandnieces and nephews. Ken was predeceased by his parents, Douglas and Margaret Graham; his sister, Shirley Parachoniak; his brother, Derwin Graham; his sister-in-law, Carolyn Graham; his brothers-in-law Bill Strukoff and Erv Parachoniak; and his father-in-law and mother in-law, Jacob and Helga Offenberger.
A family celebration of life will follow at a later date. If friends so desire, in lieu of flowers, memorial tributes may be made directly to Deaf and Hear Alberta, Deaf & Hear Alberta - DHA (deafandhearalberta.ca). Condolences to Ken's family may be emailed to meaningful@telus.net. Please indicate "Graham" in the subject line.
Arrangements in care of
Meaningful Memorials Funeral Service
A locally owned cremation and funeral provider
serving Red Deer and all of Central Alberta
587-876-4944
Share Your Memory of
Douglas
Service Area
Red Deer and all of Central Alberta including, but not limited to:
Blackfalds, Bentley, Bowden, Delburne, Eckville, Elnora, Innisfail, Lacombe, Olds, Penhold, Ponoka, Rimbey, Spruceview, Sylvan Lake, Sundre.
Contact
Bay 12, 4621 - 63 Street
Red Deer, AB T4N 7A6
Office hours by appointment only
24 Hours
(587) 876-4944
Fax: (403) 290-8243
Have A Question?
We understand that there are many questions that arise when a death occurs. We are available 24 hours a day, seven days a week to answer questions you may have and provide direction. Please call us if you require immediate assistance.